Worry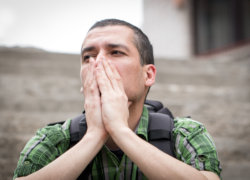 April 9, 2018
Worry, Anxiety, Fear
Anxiety, depression, and chemical abuse are the top three emotional/mental health issues today, respectively.1 Worry, anxiety, and fear are prevalent problems facing men, women, and children alike in our American culture. Although many (not all) in the medical community would have us believe that anxiety and fear are caused by chemical imbalances, the Bible indicates another possible cause. That is not to deny that chemical imbalances exist but that is not the only, nor even the primary, explanation for these common and sometimes debilitating problems. The Bible speaks specifically about worry, anxiety, and fear.
"Therefore, do not worry about tomorrow, for tomorrow will worry about itself."2 – Matthew 6:34

"Be anxious for nothing, but in everything by prayer and supplication, with thanksgiving, let your requests be made known to God, and the peace of God, which surpasses all understanding, will guard your hearts and minds through Christ Jesus." – Philippians 4:6-7
"Fear not, for I am with you; be not dismayed, for I am your God, I will strengthen you, yes, I will help you, I will uphold you with My righteous right hand." – Isaiah 41:10
If the Bible commands us not to worry, be anxious for fearful, then it must be possible to actually do so, and failing to do so could very well be a spiritual problem than a physical one. "Fear, worry, and anxiety are sins which can paralyze your mind, immobilize your body, and hinder your growth in Christ. …Satan, not God, is behind these obstacles to spiritual maturity; but God has graciously give you all that is necessary to overcome them. 3
Worry is regarding things future. It is undue concern about future events though it may be rooted in past experiences. An all too familiar question asked by a worried mind is "What if…?" Do you realize that the "What if…?" question does have an answer that few of us remember? We tend to stop with the "What if…?" instead of going on to the answer, which is "then God." What if…? Then God's grace will be sufficient.
"… My grace is sufficient for you, for My strength is made perfect is weakness." (2 Corinthians 12:9).
"Both anxiety and worry spring from natural and legitimate concerns that are part of life in this world. But legitimate concerns are handled wrongly when they do one or more of the following: (1) become dominating concerns in our life and lead to fear; (2) destroy our perspective on life and cause us to forget that God exists and care; or (3) move us to drift into an attitude of constant worry and concern over a future we cannot control." – Lawrence O. Richards
Three Basic Issues That Can Lead to Worry, Anxiety, and Fear
1) A lack of trust in God.
How would you answer the questions "How trustworthy is God?" Take a look at the evidence of your life and consider the question nor from what you know is true in your head but what you really believe in your heart. Does your life demonstrate that you really trust God? Consider the statement, "Fear begins with the belief, 'I am no longer in control,' while faith begins with the belief, 'My loving heavenly Father is in control."4 Aren't worry and anxiety the result of not trusting God? Your faith is not so much what you know to be true in your head but rather what your life proves you believe in your heart.
2) Unbelief
That may shock you because, after all, you believe in God. That's not the question. The question is, "Do you believe God?" You can be a genuine believer in Jesus Christ yet fail to take Him at His word.
For instance, Psalm 55:22, "Cast your burden on the Lord, and He shall sustain you; He shall never permit the righteous to be moved."
Another oft-quoted verse is Romans 8:28
"And we know that all things work together for good to those who love God, to those who are called according to His purpose."
Do you not only believe IN God but believe Him? If you really believe Him, what are you worried or anxious about that He doesn't already have under control?
3) Living Life to Please Self Rather than to Please God
NO WAY! That's the reaction of most people when they hear that statement, so your reaction may not have been far from that. To make the point, take a few minutes and either mentally or on a piece of paper make a list of the things that cause you the most worry and anxiety. How many of those things include concern about how they will impact you? One of the most effective and immediate weapons against anxiety is calling to mind that "life is not about me, but about Thee."
Prescription for Change
There are some very practical steps you can take to start reclaiming your thoughts and pursue change.
You must reclaim your though life.
John 8:32, "And you shall know the truth and the truth shall make you free."
Worrisome and anxious thoughts lead to physical and emotional feelings of worry and anxiety. What you think about today will determine how you feel.
Begin with repentance. If worry and anxiety are sin, the best place to start is with repentance, agreeing with God that your offense is against Him because you are failing to trust, believe, and live for Him.
Isaiah 30:15 NIV, "In repentance and rest is your salvation, in quietness and trust is your strength."
Choose to believe.
Hebrews 11:1, "Now faith is the substance of things hoped for, the evidence of things not seen."
Take God at His word, whether you see it or feel it or not.
Customize your weaponry by memorizing Scriptures that address your specific thoughts.
For instance, if you are fearful of world events, memorize Psalm 46:1-2
"God is our refuge and strength, a very present help in trouble. Therefore we will not fear, even though the earth be removed, and though the mountains be carried into the midst of the sea."
Perhaps you worry about being alone, memorize Isaiah 41:10
"Fear not, for I am with you; be not dismayed, for I am your God. I will strengthen you. Yes, I will help you, I will uphold you with My righteous right hand."
Give thanks in all things. A heart of thankfulness and gratitude will eventually overtake a heart of worry. Verbalize thanksgiving and praise even when you don't feel it. Never cease to be thankful. See Philippians 4:6 referenced above.
Finally, consciously choose to live for Christ, daily.
Philippians 1:21, "For to me, to live is Christ…" A life free of worry and anxiety is a life full of trust and peace.
Footnotes:
1 Day by Day, Anderson and Quarrles
2 Scripture references are taken from the New King James Version of the Bible unless otherwise noted.
3 Self-Confrontation Manual, Biblical Counseling Foundation
4 Lidia Mocelo; personal quote
Digging Deeper
For more help on this topic or for information on the multi-faceted ministry of America's Keswick, call 800.453.7942
Download this Resource as a PDF — Click Here