What is the Colony of Mercy? 
The Colony of Mercy program is a two-phase program consisting of a residential phase, which is a minimum of 120-days (with an optional extension consisting of a minimum 3 month Discipleship Program) and an 8-month, non-residential aftercare phase in which the man partners with his local church for counseling, mentoring, and encouragement. Together they complete a one-year program.
CLICK HERE to learn more about the history of the Colony of Mercy Program
the goal is spiritual transformation which results in freedom from the bondage of addiction.
Biblical in its foundation, the goal is spiritual transformation which results in freedom from the bondage of addiction. Spiritual transformation is accomplished by addressing the deeper heart issues with biblical truth leading to full surrender. No secular program or exercise of self-control will long sustain an individual in an addiction-free condition. One can only be liberated through the all-sufficient blood of Jesus Christ and acceptance of the new life which only He offers. The biblical principle which this transformation demonstrates can be found in 2 Corinthians 5:17:
"Therefore, if any man is in Christ, he is a new creation, old things are passed away; behold, all things have become new." 
Why Are We Unique?
The Keswick Colony of Mercy is a true faith work. From its founding, the Colony has been supported through the generosity of God's people whom He has led to pray and give. God knows the needs and moves, as only He can, in the hearts of caring people to meet them.
A unique aspect of the Colony of Mercy is the ministry available to the family of the residents through our ENRICH ministry.
Nestled in the beauty of God's creation, the pinelands of central New Jersey, America's Keswick is a land set apart for a holy purpose. Two scenic lakes, beautiful wooded grounds, comfortable accommodations as well as four-season recreational and fitness facilities all assist in providing an atmosphere conducive to provide hope and healing… a place where, since 1897, men from all walks of life have found common ground here on the Keswick soil and at the foot of the cross.
Click Here to read powerful stories of hope!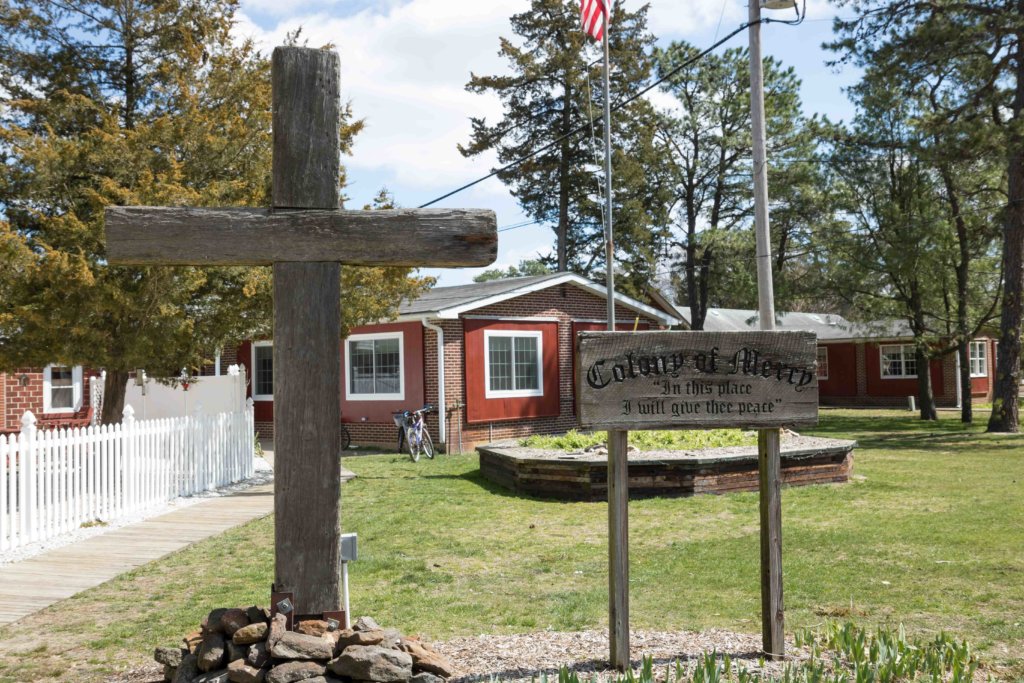 Program Basics
There are no medical or psychiatric methods incorporated into the Colony program. Spiritual help is provided through one-on-one counseling, group sessions, Bible study, sharing times and regularly scheduled worship services. A staff member is available at all times for assistance, prayer, and counsel. 
No charge is ever made for the Colony of Mercy program other than the non-refundable application fee of $500.00.
Upon arrival, each man is assigned a chaplain/counselor for the duration of his stay to assist him in dealing with the deeper issues perpetuating his addiction.
He is also assigned to one of four work departments where he will work 6-8 hours a day. The work therapy component is invaluable in helping a man apply the principles he is learning in real-life situations.
The Colony accommodates two to three residents per room and all meals are provided.
Click Here to begin our Pre-Screening Test
Call Our In-Take Office Today!