Loneliness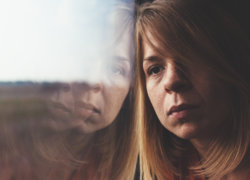 April 9, 2018
Loneliness: A Biblical Perspective
As we consider loneliness let's look at the following definition: "Loneliness is a normal response to the perception of being alone, when one desires intimacy."1 There are three important components – first, loneliness is normal. Just about everyone experiences loneliness at some time. Second, loneliness is based on a perception that a desire for intimacy or relationship has gone unmet.
Loneliness becomes a problem when the desire for intimacy turns into a demand or a need, which is then a focus in our life. If we believe we need intimacy and do not have it, it can lead to loneliness, discouragement, disappointment, depression and a feeling that life is not fair. What we perceive to be unmet needs can make us not only discontented but can begin to consume our lives. Anything that becomes the focus of our lives other than Jesus Christ is an idol. So, you may ask, how does a genuine desire take control? According to Dr. Paul Tripp, based on James 4:1-10, there are 6 progressive downward steps starting with desire and ending in sinful response to unmet desires. For our purposes we will just look at the three first steps.
Desire: "I want." Nothing wrong here.
Demand: "I must." The desire is no longer an expression of love for God and man, but something I crave for myself.
Need: "I will" Something desirable is now seen as essential. I am convinced I cannot live without it.2
If you have a personal relationship with Jesus Christ, you know in your heart that the answer to loneliness is in Him. You may be thinking "That's fine and I know that's true but I need someone with skin on." You may not want to hear this but you are probably reading this to find help and the only thing that will help you is the truth. John 8:32, "And you shall know the truth, and the truth shall make you free." The idea that "I need someone with skin on" is a lie of the enemy and it will inevitably result in loneliness. Worse yet, it could lead to a root belief that God is holding out on you and not keeping His promises. If you believe that you need someone with skin on to be happy, you are trapped in unhappiness until that person comes along. What if that person never comes? Is God holding out on you? Is God failing to keep His promises?
God Promises to Supply All Your Needs
"The Lord will guide you continually, and satisfy your soul in drought, and strengthen your bones; you shall be like a watered garden, and like a spring of water, whose waters do not fail." – Isaiah 58:11

"And my God shall supply all your need according to His riches in glory by Christ Jesus." – Philippians 4:19

"His divine power has given to us all things that pertain to life and godliness, through the knowledge of Him who called us by glory and virtue, by which have been given to us exceedingly great and precious promises, that through these you may be partakers of the divine nature, having escaped the corruption that is in the world through lust." 3 – 2 Peter 1:3-4
These three verses are just a few of many in the Bible that tell us that God will supply all our needs.
Therefore, if you believe you need someone with skin on to be happy, and you don't have that person, then God would be a liar. That cannot be.
Hebrews 6:18 "… it is impossible for God to lie…"

Romans 3:4, "Indeed, let God be true but every man a liar."
Okay, now that you see that your need for relationship is more like a demand upon God to give you what you want, what's next? A good place to start is with repentance. You have been looking to people to meet a desire for relationship that has gotten out of control. It's not that loneliness, in and of itself, is sin; but the patterns of behavior and thoughts that can be wrapped up in the experience of loneliness can often be sinful. For example, watching too much T.V., eating too much, pornography which can give a false sense of intimacy, overspending, Internet chat rooms, etc., whatever you turn to, other than Jesus Christ, to ease the pain of loneliness. The bottom line is that you are looking to meet your needs apart from God. If we take people out of the picture as a means to meet our desire for relationship, what's left, or rather who's left? God, only God.
Do you want to be free from the devastation of loneliness? Really free? There is hope.
May the God of hope fill you with all joy and peace in as you trust in him so that you may overflow with hope by the power of the Holy Spirit."4– Romans 15:13
Did you see it? "… as you trust in Him…" It all goes back to your relationship with God. Your freedom in this area, and in other areas where you may struggle, will come only when you believe in your heart that Christ is all you need. You will know that you believe it in your heart when your life reflects this truth and you are no longer looking around to find ways to be fulfilled. The only way for you to really believe that Christ is all you need is to know Christ in a rich, personal and intimate way. Only then will you be able to trust Him to fill the deepest longings of your heart with Himself.
"And you shall love the Lord your God with all your heart, with all your soul, with all your mind, and with all your strength." – Mark 12:30

"My soul, wait silently for God alone, for my expectation is from Him. He only is my rock and my salvation; He is my defense; I shall not be moved. In God is my salvation and my glory; the rock of my strength, and my refuge, is in God." – Psalm 62:5-7

"And God is able to make all grace abound toward you, that you, always having all sufficiency in all things, may have an abundance for every good work." – 2 Corinthians 9:8

"… Christ is all and in all." – Colossians 3:11
Christ is all I need. Allow that truth to sink into your mind, heart, attitudes and actions, and you will be forever changed.
Footnotes:
1 Dr. Miriam Stark Parent, The Soul Care Bible, New King James Version, Thomas Nelson Publishers, Nashville, 2001.
2 Paul David Tripp, "Instruments of Change," Lesson 3: Page 4, Resources for Changing Lives, 2000
3 All scripture references are from the New King James Version of the Holy Bible unless notes.
4 Scripture reference is taken from the New International Version of the Holy Bible.
All Scripture is from the New King James Version of the Bible unless otherwise noted.
Additional Resources
A Path of Loneliness By Elisabeth Elliot
How to Overcome Loneliness By Elisabeth Elliot
Facing Loneliness By Oswald Sanders
Falling in Love with Jesus: Abandoning Yourself to the Greatest Romance of Your Life By Dee Brestin and Kathy Troccoli
Digging Deeper
For more help on this topic or for information on the multi-faceted ministry of America's Keswick, call 800.453.7942
Download this Resource as a PDF — Click Here