A Life in Progress – Sean M.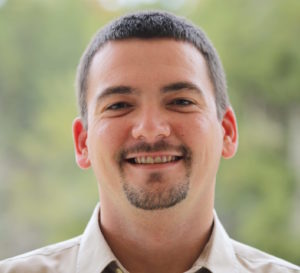 I came to know Christ at the age of eight – or so I thought. I was raised in a Baptist home. I went to church every Sunday and attended Sunday school as well. I knew this was what I needed to do. I had a very basic understanding of the Scriptures. I knew some of the Bible stories. I thought things were going great. I had a loving family with a mother, father, twin brother, and younger brother. Besides church attendance, we were very active in sports.
I began working full-time after high school. During that time I began using and abusing drugs. Looking back, this is when I began drifting away from the Lord. I was putting everything before the Lord – my girlfriend (now my wife), my family, my drugs, and work. This was something I knew would never work. I never had an intimate relationship with Christ. There were so many other things in my life that seemed to hold more value; unfortunately, Christ was not at the top of the list. My time spent in prayer had steadily decreased through the years to the point that I no longer prayed. I had cut out of my life the very One I should have been seeking. But life continued. I still firmly believed I could "do this all on my own." At the age of twenty-three, I married my high school sweetheart. We soon had our first child, Harlow. What a blessing from God she was. I had a fantastic job and was able to provide for our growing family. By the age of twenty-eight, I was still heavily involved in my drug use and it was taking a toll on so many. Much like the sin of Aichan from the book of Joshua, my sins were cutting a very destructive path. I was losing my family and my life was slowly fading away. I had to do something.
The change came in the form of learning what it meant to surrender everything to Christ.
The change came in the form of learning what it meant to surrender everything to Christ. Enough was enough. I came to the Colony of Mercy to get clean and surrender it all at the foot of the cross. I now have an intimate relationship with my Savior Jesus Christ. I learned that it is not about me anymore, and this helped lift a tremendous burden off my back. Through the Exchanged Life I am now living in Christ I am able to be the man I was designed to be. I now enjoy reading Scripture. I know God hears and answers my prayers. My faith and trust in God enable me to have hope again.
My life verse comes from 2 Corinthians 5:17, "Therefore, if anyone is in Christ, he is a new creation; old things have passed away; behold all things have become new."