A Life In Progress - Jesse B.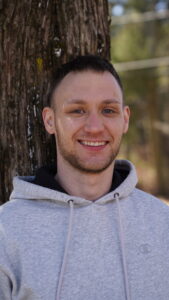 I am 27-years-old and am originally from Lancaster, PA, but recently moved to North Carolina to be closer to my family, and hopefully start the next chapter of my life.
Since before I was even born it was clear that the Lord has had His hand on me. I was adopted from birth, which has been the biggest blessing of my life. This blessing has put two of the best people in my life, my mom and dad.
I would say that growing up I had a normal childhood, until I hit middle school. I started middle school at a public school, after transferring from a private Christian school.  Growing up, everything revolved around soccer. I played every opportunity I got. This was the main reason for switching schools. Those middle school years were important in starting to shape my life. It was there I first tried alcohol, weed, and cigarettes. I wouldn't say I got hooked on them at that point, but it definitely created some curiousness inside of me. Another big part in middle school was going to Europe to play soccer. This was a really good experience for me, and when I came back, I wanted to make it a goal to eventually play professionally. I did go back to Europe several times, but nothing ever seemed to quite work out. It wasn't until my senior year in high school that I really started drinking and smoking. I got a scholarship to college, but once I was there the partying, drinking, smoking, and women took control. I very quickly fell into Satan's trap. I ended up dropping out of school and coming home to live with my parents while pursuing a career as a software developer. I continued to play soccer on the side for some amateur teams. This is when I really started feeling like I was failing in life.
In the winter of 2015, I got my first DUI, but I just thought I had been irresponsible and didn't realize I had a problem.  I drank more and more as my 20's went on. I started hiding bottles from my parents and friends so no one would suspect anything was wrong. I had a couple serious relationships, but they ended because ultimately, I chose the bottle over them. I've lied, cheated, and stolen from people I truly cared about.
In the fall of 2021, I went out to get a six-pack and was pulled over for having a headlight out. Unfortunately, it wasn't my first six-pack of the night, and resulted in my 2nd DUI. At that point, I started realizing I had a problem. But it wasn't until one day I was drinking and got into an argument with my mom and threw a book at her. I was buzzing at the time and didn't realize I did anything bad. But when I sobered up I realized I did that to the person I care about more than anyone in this world. I knew it was time to finally do something about getting help.
 I came into the Colony December 6, 2021. It was one of the most terrifying but best days of my life. I had always believed I had something special to offer, but it was not until I came to Keswick and started an intimate relationship with Jesus that I began to see that potential come alive. I have surrendered myself to Him and allowed Him to live in my heart so He can break me totally and begin to mold me into the man He has always planned for me to be.
Two of the biggest things I need to work on are humility and patience. When I say my patience has been tested here, believe me, it has! And it has been obvious He is in the process of humbling me as well. My parents have always told me they are proud of me, but hearing them recently say how proud they are about my new commitment to my relationship with Jesus was the best. And it makes me smile to know my Father in heaven is proud too.