A Life in Progress – Aaron M.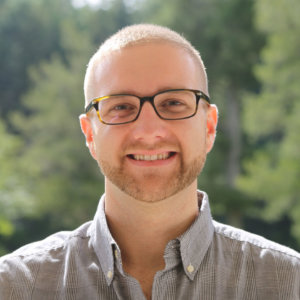 Fear had me paralyzed. The thought of accepting love was discomforting, and giving love was nearly impossible. The trust I had in people was non-existent, and my faith in the Lord was eradicated due to the shaming of a controlling and legalistic church.
From my adolescence, processing emotions didn't come naturally. Therefore, leading into my adult years, whenever I felt emotion, I would anesthetize myself to avoid the deleterious side effects of pain and discomfort. Now, I know that being uncomfortable isn't necessarily a negative thing, even though it can be painful and trying at times. God designed me beautifully, with every detail of my life carefully created. All He wants is a relationship with me. However, because of my negative experiences with people, I had associated God with my feelings of rejection. He was evil, and predictable, only wanting something from me to then use it against me in the future. I had no love, no savior; I was on my way to hell.
In the past, I felt inadequate or incapable of achieving things the right way, and this cultivated negative thoughts and actions. This fed into my already prominent insecurities. I began to find shortcuts in all areas of my life. I would cheat on exams, and steal to save money, but every time I would cut a corner, it only fueled the lie that I was inadequate and incapable of doing things out of virtue. As a result, my insecurities grew and so did the distance between God and me.
"I have now gone from drinking daily to praying hourly."
I have now gone from drinking daily to praying hourly. Three months ago, I stepped out of a life overflowing with fear, pain, and sorrow and found victory and strength in my weaknesses through Jesus Christ. Today I see the work that God has started in my life, and I have countless reasons to give Jesus Christ the glory. The changes I have felt and the growth that has happened in my life can only be credited to the power of God through the work of the Holy Spirit.
"God called me to the Colony of Mercy, where I have been able to understand who God is and who I am through Him."
God called me to the Colony of Mercy, where I have been able to understand who God is and who I am through Him. He has begun a work of reconciliation in my once broken relationship with my family. Furthermore, I no longer believe the lies of Satan because today I know that I am a child of God – loved, forgiven, purchased with the blood of His only Son Jesus, who now lives through me.
Though the Colony of Mercy is a 120 day rehabilitation program, I asked to stay for the extended Discipleship program. In this program I was able to practice the life skills I learned while in the Colony of Mercy.
The Colony of Mercy program has also given me the tools necessary to identify unhealthy relationships, one of which was my living partner. It was a toxic and volatile relationship, full of abuse and anger. We would scream, yell, and break things. It is possible that two sick people can unite and make recovering nearly impossible. So with the strength of my support network and the Lord, it was clear that I had to leave all unhealthy relationships. Today God has blessed me with a wonderful friend group, and a wonderful loving wife.
It is because of the addiction recovery ministries at America's Keswick that I now desire to seek the Lord fervently with my whole heart. Thanks be to God for His grace and mercy.