A Life in Progress – John B.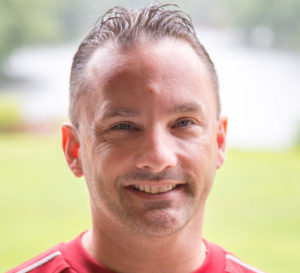 I was born into a Christian family. I am the oldest of three boys. We grew up in a loving, average Christian home. My childhood was normal with caring parents who are still together. I can't remember exactly when I asked Jesus into my heart – I think in my pre-teen years. I have since rededicated my life to Jesus several times because of the choices I have made.
Around age 20, I started to drink socially, mostly on weekends. I didn't even like it that much at first, but as I continued to drink more and more, it started to become a habit.
If drugs were around, I would try them. I was married at 24 and had a great job at a photography studio. We had a son after being married for three years, and less than two years later we had twins, a boy and a girl. Three little ones close in age were overwhelming to me and I started isolating myself in our basement. I made a room in our basement (man cave) with a small refrigerator, TV and computer. After work I would go down and drink and started talking to other women online. That ended up being the downfall of my marriage.
On October 31, 2005, I left the house while the kids were out trick or treating. I was with someone else, and drinking every night. I knew in my heart it wasn't the right thing. Relationships fell apart and drinking continued. I lost my business and several other jobs. Realizing, when it was too late, how much I regretted leaving my children, I tried drowning those emotions with alcohol and drugs.
In 2008, I met a great woman, who I have put through hell. Only by the grace of God is she still in my life. From 2008 through 2015, I lost jobs and had a DUI after crashing my car. No doubt God had His angels around my car that night.
In March of 2015, I had hit the point where I just didn't know where to turn or what to do. My father urged me to come to a place called Keswick. A friend of my parents told us about it and said God put it on her heart to pay for me to come to Keswick.
Coming to the Colony of Mercy in April was scary for me. I felt alone. Since being here, I have grown so much spiritually. Chaplain Rose has taught me more than I could imagine. My thoughts have changed dramatically.
I am no longer listening to Satan. I don't get as angry or as arrogant. I am no longer a slave to alcohol – I am a child of God. I put my trust and faith in Jesus and am no longer afraid to live. My walk with the Lord is so much stronger now after being at Keswick.
On August 4th, I went forward for the altar call. I was afraid that after leaving Keswick I would fail. Pastor Chris Thompson and Pastor John Helm prayed over me as I was praying. When I stood up I knew that the Holy Spirit had taken the craving for alcohol away from me. Praise God! I don't have to be afraid anymore. If God is for me, who can be against me? I praise God for bringing me here and allowing me to grow and be a part of other men's lives. I have several new brothers who I will always remember who have touched my heart.